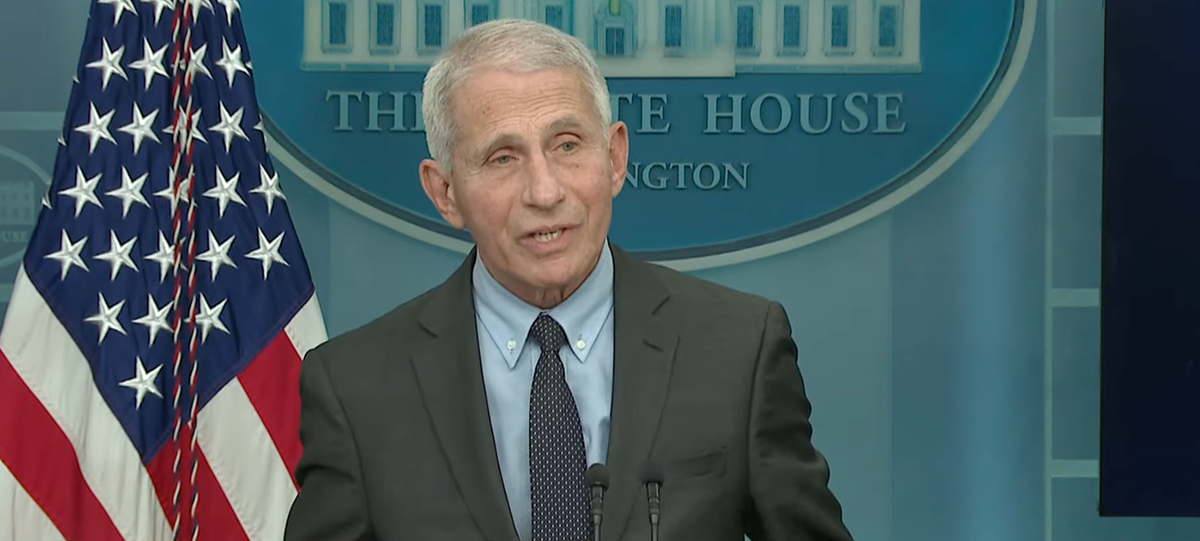 A chaotic scene erupted through the Dr Anthony Fauci's closing press convention on Tuesday when a reporter started shouting over his colleagues and demanding that White Home Press Secretary Karine Jean-Pierre take a query in regards to the origins of Covid-19.
Dr Fauci, the outgoing director of the Nationwide Institute of Allergy and Infectious Illness, had simply completed discussing the state of the Covid-19 pandemic and stepped again to attend for questions when quite a few journalists started shouting their queries.
This isn't unusual for press conferences, however Ms Jean-Pierre known as on them to cease and stated that she would name on particular person reporters to ask their questions, warning them that by shouting questions they might waste their colleague's and Dr Fauci's time.
Throughout the shouting, one reporter — who's believed to be Diana Glebova of the Day by day Caller — might be heard asking a query in regards to the origins of the virus, however she was not known as on.
After Ms Jean-Pierre shuts down the shouting, one other reporter — Simon Ateba, the chief White Home correspondent for At present Information Africa, started arguing with Ms Jean-Pierre for not calling on Glebova.
"You must enable her to ask her query," Ateba says within the clip. "She's asking a legitimate query to Dr Fauci on the origin of Covid-19 —"
Ms Jean-Pierre interrupts him, telling him "it's not your flip."
"You name on the identical folks, you known as a press briefing, it is advisable to name on folks from throughout the room," he stated, accusing Ms Jean-Pierre of taking part in favourite within the press corps. "[Glebova] has a legitimate query, she's asking in regards to the origin of Covid-19, and Dr Fauci is the perfect individual to reply that query."
Ms Jean-Pierre insisted that she "hears the query" however that "we're not doing this the way in which you need it."
She then calls on one other reporter, who asks about vaccination charges.
This isn't the primary time Ms Jean-Pierre has gotten into spats with reporters who shout questions over their colleagues. At the least twice she has chastised Angolan TV anchor Hariana Veras for calling out questions whereas different reporters — who got the ground — had been making queries.
She accused Ms Jean-Pierre of ignoring African reporters.
"We have now been asking for questions, Karine, each time. And even if you give inquiries to Simon it's as a result of he compelled," Ms Veras stated, based on Mediaite. "We don't must power for questions. We additionally need to have a query. Do you might have one thing in opposition to African reporters?"
The "Simon" she referenced was Ateba, who was a central actor in Tuesday's spat.
#Chaos #closing #Fauci #press #convention #yelling #reporter #drowns #questions [crypto-donation-box type="popup" show-coin="all"]